After over two decades, Cristina Iglesias, one of Spain's artistic luminaries, reemerges on the U.S. museum landscape with her mesmerizing exhibition, "Under and In Between", running from April 28–September 24, 2023, at the Frederik Meijer Gardens & Sculpture Park.
Known for her intricate interplay between architecture, landscape, and nature, Iglesias orchestrates spatial narratives that prod at our sensibilities. Her works are not mere sculptures; they are spatial poems – sprawling stanzas of natural elements and material realities that provoke thought and evoke emotions. A native of San Sebastián and now a resident of Madrid, Iglesias has become a harbinger of experiential aesthetics.
The exhibition, a spectrum of works spanning 20 years, spotlights Iglesias' signature use of water, plants, and other natural components. We are invited into her contemplative world – where wall reliefs meet metal silk screens, liquid sculptures mingle with videos, and multisensory typographies are the language of engagement.
An intriguing element, Phreatic Zone II, showcases a shallow pool with water meandering over sculpted terrain. This subterranean tableau, alongside her Pozo (well) sculptures, underscores the sonic allure of water – an auditory brushstroke that paints its rhythm in our minds. Her work, Pozo XI, newly installed in the Tassell–Wisner–Bottrall English Perennial Garden, fuses the exhibition's interior and exterior spaces, echoing her love for a harmonious coexistence of art and its environment.
One of the highlights includes her Entwined series of mural reliefs, where she brings the outdoors indoors. These cast aluminum sculptures, spreading across the gallery walls, mirror a dense invasive vegetation – a poignant fusion of industry and nature.
Beyond the tangible, Iglesias also treats visitors to two films from her Guided Tour series, transporting us to various urban and rural locales. This multi-dimensional presentation of her work fosters a holistic appreciation of her artistic journey and philosophy.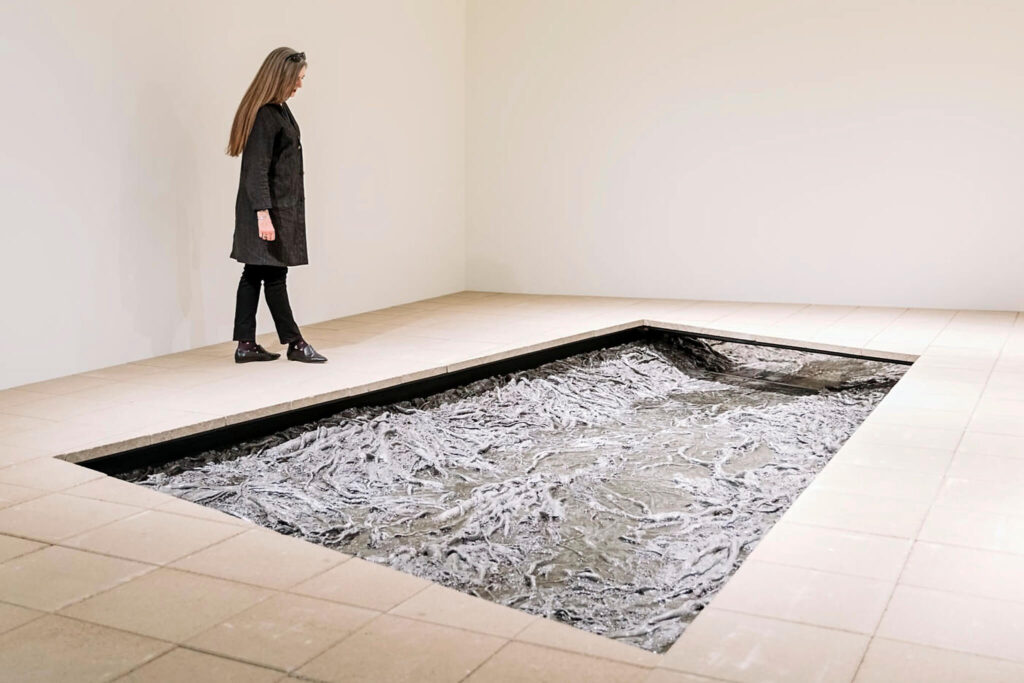 Housed in the nation's premier botanic and sculpture hub, the exhibition enriches the legacy of the Frederik Meijer Gardens & Sculpture Park. As a world-class destination for art enthusiasts, it promises an immersive, invigorating, and inspiring experience. "Under and In Between" heralds not only the return of Iglesias to the U.S. museum scene but a rejuvenation of our spatial and sensory engagement with art.
It is a reminder that art is not an object, but an experience – a dialogue between the creator, the creation, and the observer. A dialogue that Cristina Iglesias masterfully orchestrates in "Under and In Between".
More Background on Cristina Iglesias
Cristina Iglesias, born in San Sebastián, Spain in 1956. She is an acclaimed artist whose innovative works have redefined the boundaries between architecture, nature, and art. Renowned for her sculptures, she often incorporates natural elements such as water and plants, creating immersive and contemplative experiences that poetically redefine the spatial relationship between the observer and the artwork. Her pieces range from urban installations to underwater sculptures, pushing the limits of traditional mediums. Iglesias's creations have been showcased in prestigious global institutions, including Museo Nacional Centro de Arte Reina Sofía in Madrid and the Tate Modern in London. With her thoughtful attention to the interplay of interior and exterior spaces, she's transformed public landscapes, earning her numerous accolades, including the Spanish National Prize for Visual Arts and the Royal Academy Architecture Prize. "Under and In Between," her first U.S. museum exhibition in over two decades, further attests to her status as a leading figure in contemporary art.